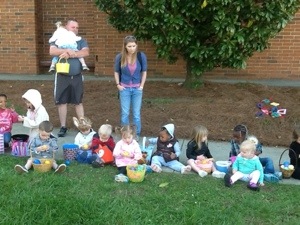 Today was our annual Easter Egg Hunt. Our toddler's act as if they were pro's on their hunt. After our hunt, we went to the finale of "Come See Me" where they had fun, with music, making edible "Ants On A Log", and all types of Arts & Crafts. And to top it off three of our toddler's won in a raffle drawing.
1. Isabella Filiaggi
2. Lizzy Turner
3. Faye Valenza
Congratulations! Happy Easter! And Enjoy your Spring Break!