Mid- Year Enrollment is determined on a per student basis.  The tuition balance is created by deducting the number of school days the child has missed and the per day cost of each day. Parents of students entering mid year, must still provide the 5% deposit which will lower their monthly tuition costs.  ABC Clients are calculated at a different rate, please call for details.
2016 – 2017 Payment Options Form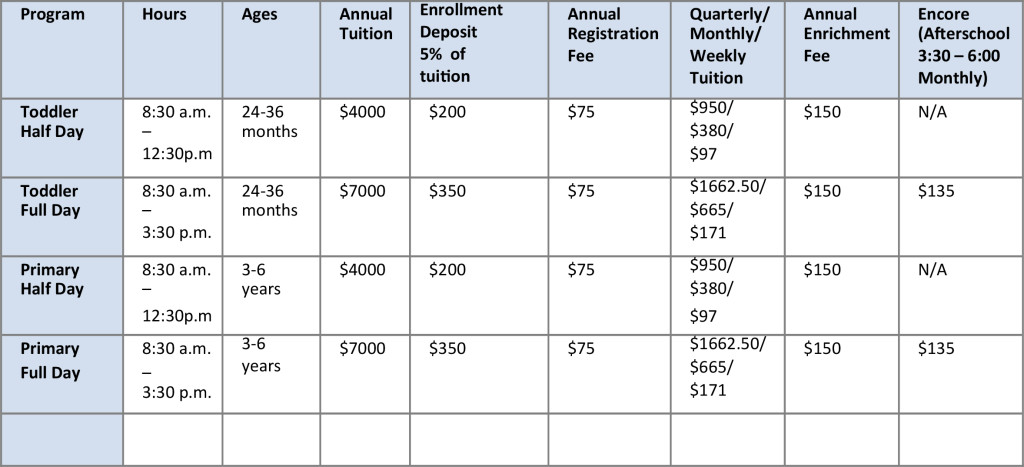 Additional Fees
Application Fee is $75.00 (non-refundable) and Enrollment Deposit (non-refundable) is due when the application is submitted.
A 5% enrollment deposit (non-refundable) is due when application is submitted.
Annual Enrichment Fee
All students must pay an Annual Enrichment Fee of $150.00 (non-refundable) prior to the first day of school.  This money will be allotted for our Enrichment Programs, Technology Programs, and scholarships.
Encore is our afterschool program.  It is optional.  All students enrolling in our afterschool program will pay the monthly fee.
Rollee Pollee – a napping blanket that is required for all students in toddler and primary classes.  Charge is $20.00 and we will give you one of these when you enroll.
T-shirts – Freedom Montessori t-shirts are available for $15.00.  Our school shirts will be worn every Friday and on all field trips.
Lunch Program
Students must bring their own lunches to Freedom Montessori School.  We do not offer a hot lunch program.
Field Trip Fees are collected by individual classrooms and are based on classroom activity plans.  Toddlers do not take field trips.
Supplies- a materials list is distributed in July of each year.
Multi Child Discount
A 10% deduction of the second child's annual tuition will be applied.  All other fees apply.
Requirements
Current Immunization Records
Copy of Parent/Guardian Picture ID